Where do elephant seals live and how can you visit them?

Northern elephant seals live in the North Pacific Ocean. Their territory ranges from Baja California in the south to the Gulf of Alaska and Aleutian Islands to the North...






Southern elephant seals, which are generally larger than northern elephant seals, live in the Southern Hemisphere in the oceanic waters and coastlines of New Zealand, South Africa, Antarctica, and Argentina...





Both northern and southern elephant seals spend nearly all of their time submerged diving in the profound depths of the ocean. They only come to land for an extended amount of time twice per year. This happens once during the elephant seal breeding season and again at the time of their catastrophic molt. During these periods they live mostly on the beaches of small offshore islands and also in a few places on mainland beaches. These are the times when you get to visit with the elephant seals and learn something about them.


In the Northern hemisphere, there are three main places to visit the elephant seals while they're on dry land. They are Point Reyes, Ano Nuevo and Piedras Blancas.





Go here to visit elephant seals at Point Reyes





Go here to visit elephant seals at Ano Nuevo



Go here to visit elephant seals at Piedras Blancas
Not sure if you want to go to Piedras Blancas or what you'll see when you get there? Dispel your hesitation by viewing the elephant seals live right now at Piedras Blancas...




In the Southern hemisphere, there are a great variety of places to visit the elephant seals while they're on dry land. Find them here on the Red List. When you're there, click on the range map for specifics on locations.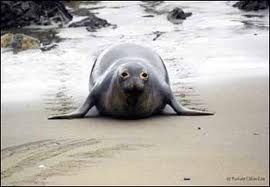 When visiting the elephant seals, make sure to follow the guidance and dictums of local docents and rangers, or this could be the fate of you and your vehicle...





Please visit theelephantseal.org store, where you'll discover hundreds of elephant seal products that support Ocean Conservation Research!


theelephantseal.org is your resource for all things elephant seal!

Resources
Facts
Mating
Battle
Predation
Vocalization
History